Lily Topolski Music on Jul 9th 2022
So, how do I download free sheet music? Or any digital sheet music? If you're asking yourself that question, this article is for you! Here are some steps to help guide you in finding your sheet music and downloading it.
Note: the steps in this article can also be followed to download background tracks.
Step 1 - Checkout
Of course, the first step is to add the sheet music to the cart and start the checkout process. Here, you will be asked to sign in or "continue as guest". You will still be able to reach your downloads either way, but it may be easier to find them in the future if you create an account.
Step 2 - Find your downloads
Once the checkout is done, you will be sent an order confirmation email and be taken to the order confirmation page. You can find your downloads through either the email or the page, so we'll go through how to do both.
Confirmation Page
The quickest and easiest way to get to your downloads is through the confirmation page, since you're already there. This is the first page you see after completing the checkout. If you have checked out as a guest, you may see the option to create an account, but this isn't necessary. On the right hand side of the page (or the bottom of the screen on mobile devices), you will see your order summary. Under each piece of sheet music in this summary, you should see a small link that says "Go to Downloads" (see the red circle in the image below). This will take you to your downloads page.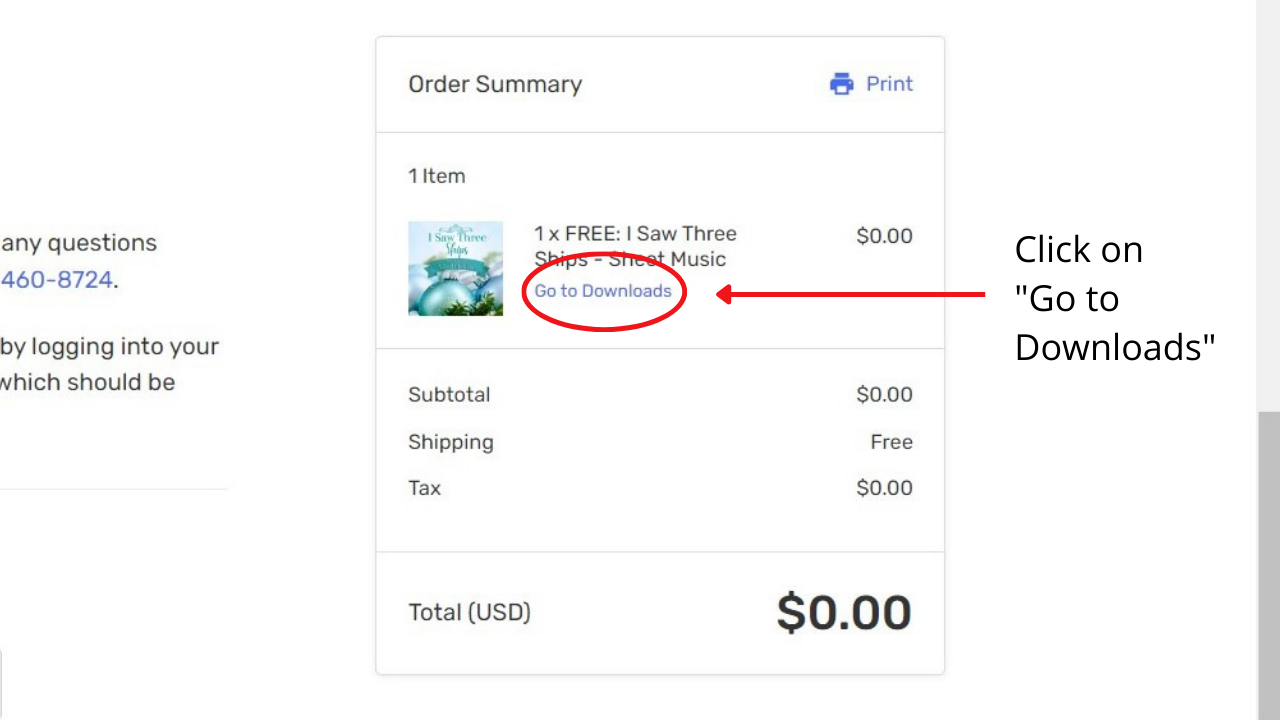 Email
The second way to get to your downloads is through the confirmation email. If you signed in as a guest and want to get to your downloads on another device, the way to do it would be through this email. In the email, you will find a link under each piece of sheet music that says "Downloads files", as shown in the picture below. Clicking this link will take you to your downloads page.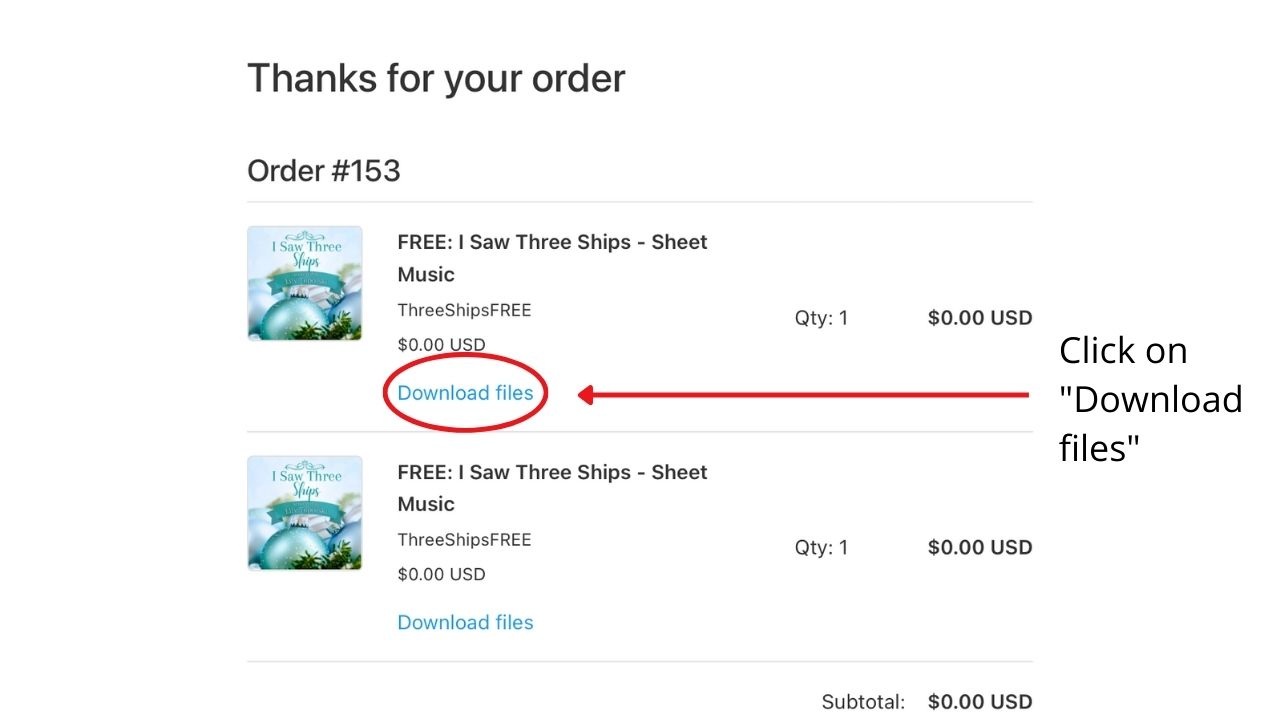 Account Page (BONUS TIP!)
There is actually a third way to get to the downloads page! If you created an account or already had one when checking out, you can get to your downloads through your account page. All you have to do is hover over the account button and click "Sign In" or "Account" to be taken to your account page. That button can be found in the top right of the menu bar, as shown below.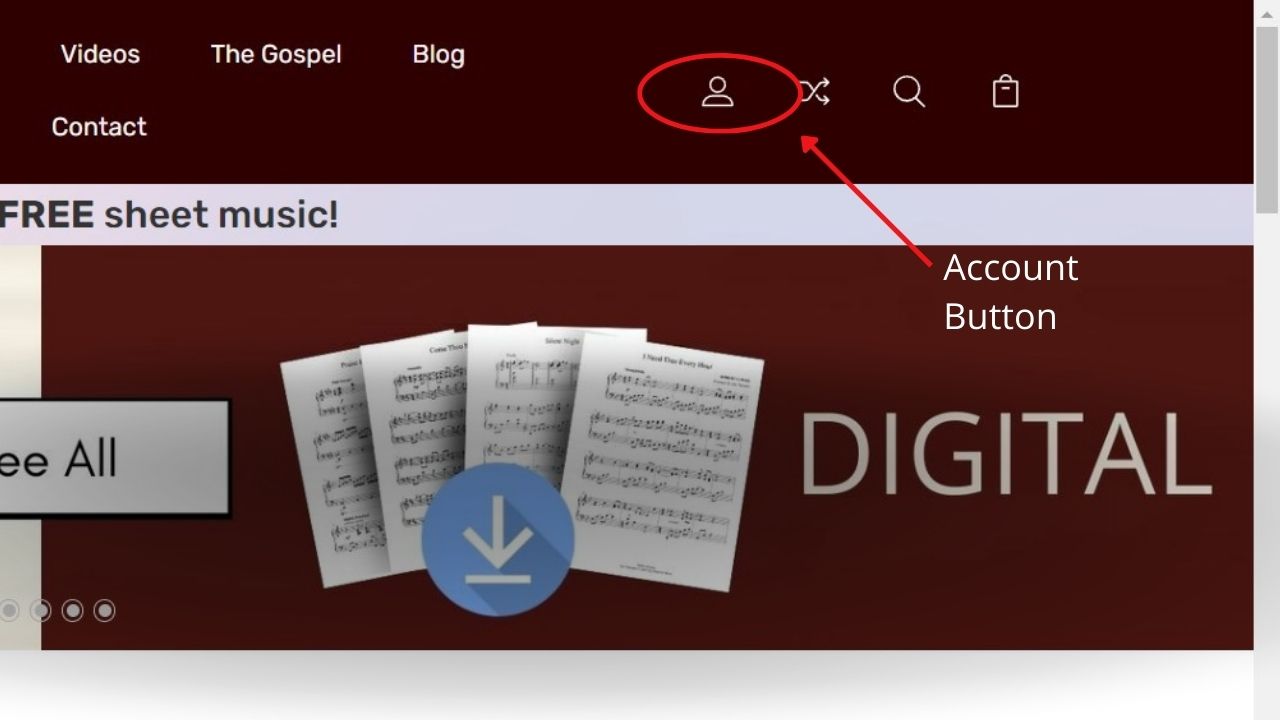 From your account page you will see your most recent order at the top. Click the order number. This takes you to a page where you see the items you purchased in that order. Digital downloads will have and download button over the picture, as shown below. Click that button and you have made it to your downloads page!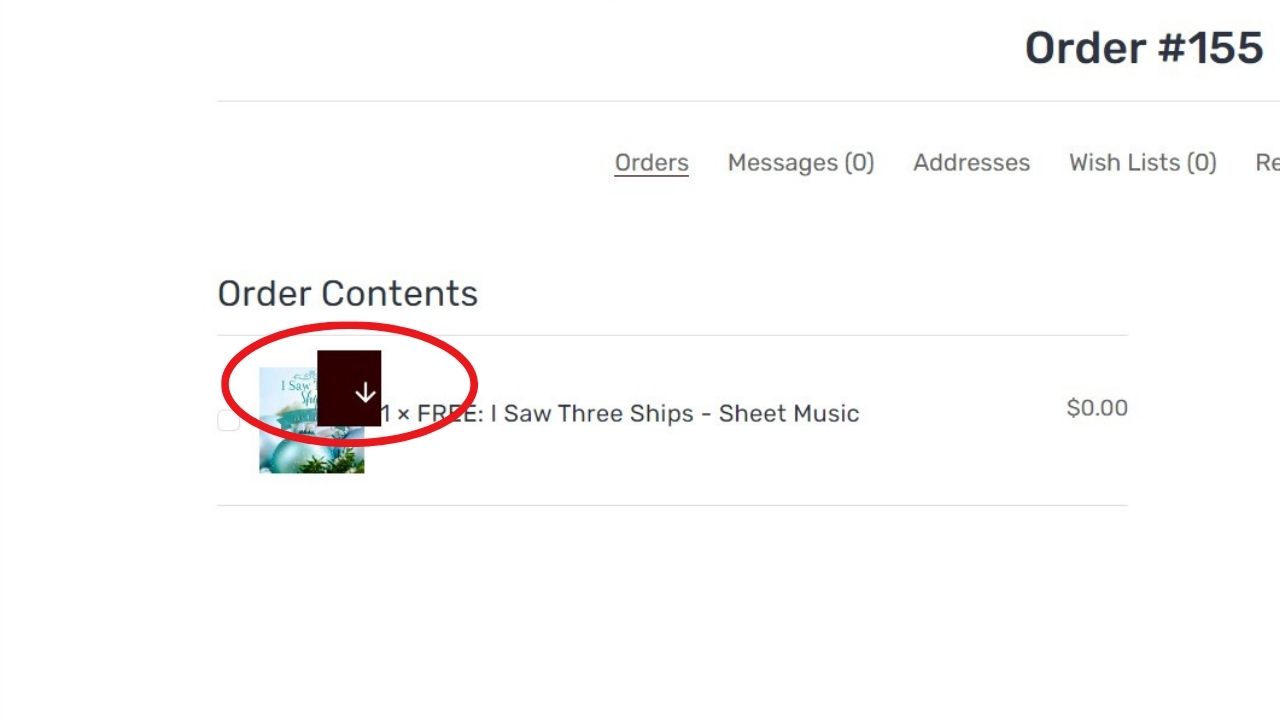 Step 3 - Download
You have reached your downloads page, but now how do you download? For each piece of sheet music, click on the name of the song, as highlighted in the picture below. Once you do that, your download should start and you should be good to go!
The sheet music will be downloaded as a PDF, so you will be able to open it on your computer or mobile device. If you are on a computer, once you download the sheet music, you will be able to open the PDF and print it from there. Otherwise, if you're on a device such as an iPad or tablet, you should be able to open it in any music reader app. If you don't have a music reader app for your device and would like a suggestion as to which one to use, we would suggest forScore. For a step-by-step on how to get your sheet music onto a music reader app like forScore, try reading How Do I Get Sheet Music onto My iPad?.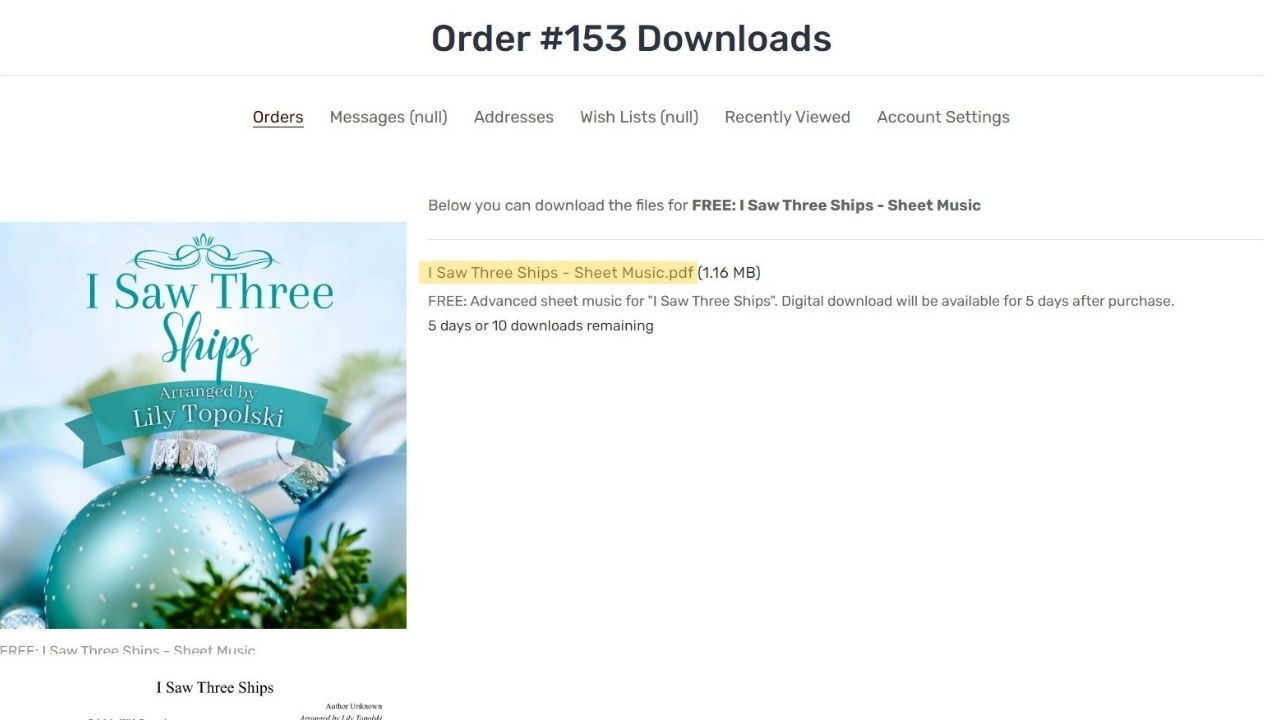 Step 4 - Play and enjoy!
Thank you so much for being interested in the sheet music! We really hope you have fun and enjoy playing it! If you run into trouble anywhere along the way trying to download, feel free to reach out and we'll be happy to help you!
Blessings!